Cup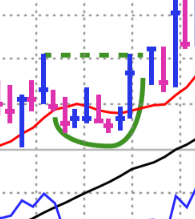 A Cup pattern is similar to a Cup-With-Handle pattern, except there is no final dip before the stock breaks out. Thus, the pattern looks like a cup with no handle.
The lack of a final shakeout that would have taken during the handle phase increases the chances that the breakout fails somewhat. However, there are some Cup patterns that do advance successfully without forming a handle.
Cup patterns can last from 6 to 65 weeks with depths ranging from 8% to 50%.